Bathroom Renovation Cost
We have a short answer and a long answer for bathroom renovation cost — and they're both worth reading.
But let's start with telling you something about Regency Plumbing to set the scene.
Throughout the 20 years that Regency Plumbing has been serving clients in and around Auckland, we've always stood by one key promise – transparency. Being clear and honest with everyone we deal with has always been a top priority for us and one of the reasons our clients trust and refer us.
That promise of transparency means we don't shy away from talking about costs.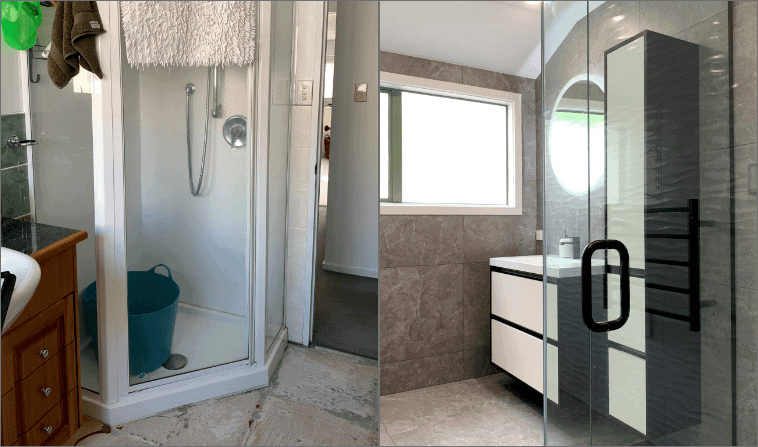 So, how much should a bathroom renovation in Auckland cost?
The short answer is, whatever you want it to cost. What we mean by this is that the team at Regency Plumbing works tirelessly to create a range of ideas and options for clients. Regardless of the age of your home or the size of the room you're renovating, we always try to find creative and functional ways to make the most of your space.
We have a large base of manufacturers and suppliers that we work regularly with, so we are able to source products at different price points to fit your budget. If your bathroom wish list (see our earlier blog called 10 Things to Consider Before a Bathroom Renovation) includes a luxury freestanding bathtub, we can source one for you priced anywhere from $500 right up to $5000. If beautiful tapware is your thing, we can find just the right basin mixer ranging in price from $10 to $1000.
As you can see from these two examples, the price range of many products can be huge. We generally stay away from products at the very top and bottom of the range. But even then, the range in the middle can be large and confusing. We can help you make informed decisions based on our vast experience with the brands we support and the products they have available.
And now for the long answer….
In order to determine whether you can afford a bathroom renovation, there are a couple ways to think about it. A bathroom renovation is usually either a standalone renovation (meaning you're redoing or updating just that one room); or it's part of a larger renovation project (you're working on a few rooms of your house, for example).
The first way to set a budget for a bathroom renovation, then, is to decide on an amount that you're able to spend – perhaps based on a percentage of larger renovation costs if you're working on other rooms or parts of the house at the same time. For example, if you're doing other renovations that will total in the area of $300,000 then you might allocate $30,000 to the bathroom (these are
arbitrary figures; please speak to us for more accurate estimates based on your situation).
There isn't a clear-cut methodology to the math here. It's simply what you can afford or how much the bank will lend you. But if you came to us with a dollar figure in mind, we'll let you know straight away whether the project is worth pursuing. Generally speaking, yes, a budget of $30,000 would be great for a bathroom renovation in Auckland. If, on the other hand, there isn't a larger renovation project happening – and you just want to focus on the bathroom – then the budget for it depends on what you can afford and how much value you
place on having a modern, dry, warm, beautiful and functional bathroom. It's very subjective.
To make it more quantifiable, we encourage clients to look at a bathroom renovation as a sum of several parts. You may have heard us talk before about the six parts of a bathroom renovation:
1. Main bathroom fixtures – basin(s), toilet, shower, bath, bidet
2. Secondary fixtures – tapware, mirrors, towel rails, cabinetry
3. Flooring – tiles and other floor covering options
4. Walls, ceiling, windows – tiles, plasterboard, paint, wallpaper, blinds
5. Electrics – heated towel rails, underfloor heating, fans, heating, lighting, mirror demisters
6. Plumbing – hot water heating, water pressure, drainage
There are two reasons why we break it down into these parts. First, it's important to understand that there are several components at work in a bathroom – usually more than people realise at first. It is possible that your renovation doesn't include all of these elements; but if it's a full makeover, then you may need to budget for all of the above.
The second reason for breaking it down into these parts is to help you set some priorities. Some people will look at this list and decide what parts they care about more than others, and what tasks they might want to do themselves. It's a good way of looking at all that needs to be done, and realising where there may be room for trimming the budget if needed.
At Regency Plumbing, we use a list similar to this when we're doing an initial plan and budget with a client. It helps us work out what your must-haves and non-negotiables are. And it gives us an idea of where we can source supplies in a range of price brackets.
If you're unsure of where and how to start – or are curious about what a
bathroom renovation
in Auckland might cost –
get in touch
with us at Regency Plumbing. We have a large portfolio of plans and images we can show you for inspiration and to help bring your dream bathroom to life.
Bathroom Renovation Process
Shower Renovation COst