A Step-by-Step Guide to the Bathroom Renovation Process
from your Auckland Bathroom Renovation Specialists
Renovating a bathroom can be the most rewarding home project you'll ever take on. It's the most important room in your house – it's the room that everyone uses, even visitors to your home (you probably can't say that about any other room).
The Regency Plumbing team in Auckland has completed hundreds of bathroom renovations over the past 20 years. We can help you make the most of your space (and budget), and avoid some common pitfalls that DIYers tend to make.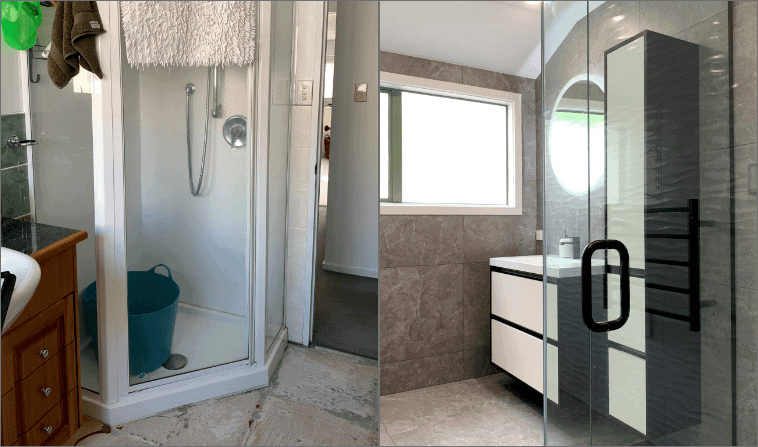 Step 1 – Call in help early
Regardless of the size of the bathroom you're renovating, there are so many details to consider in bathroom renovation process that it pays to get an experienced, professional bathroom renovator involved from the start. At Regency Plumbing we believe there are two clear benefits to having us involved early. First, because we've been around bathrooms for years, we can take the ideas you have and suggest options you may not even think of. We're bathroom magicians when it comes to making the most of small spaces and finding ways to make elements function efficiently while also looking beautiful. Second, we'll save you a ton of time researching layout and design ideas and sourcing products. From just one conversation we can usually put together a range of ideas and options for your new bathroom.
Step 2 – Don't rush the planning
It's sometimes so tempting to rush over the layout and planning phases and get right to the fun decorating part. We get it – choosing mirrors, tile colours and tapware is exciting. Heck, even looking at different toilet models gives us thrills. But before you do any of that, you need to take the time to thoroughly plan how you'll use the space.
We can hear you from here … What do you mean, how do we use our bathroom? We go to the toilet, flush, wash hands and go.
There's so much more to it than that. Will the bathroom be used for getting ready in the morning, or for evening baths? Will everyone in the household use it? How about visitors? Is there any natural sunlight into the room? What about window ventilation? Is underfloor heating high on your wish list? Why are you renovating and what is it that you currently love or hate about the room?
Step 3 – Break it down into parts
It's easy to look at a bathroom and think – basin, toilet, shower, bath. How hard can it be? At Regency Plumbing, we encourage our clients to think of their bathrooms in a unique way. In order to make the most of your time and budget, we break it down into:
Main bathroom fixtures – vanity/basin(s), toilet, shower, bath, bidet

Secondary fixtures – tapware, mirrors, towel rails, cabinetry

Flooring – tiles and other floor covering options

Walls, ceiling, windows – tiles, plasterboard, paint, wallpaper, blinds

Electrics – heated towel rails, underfloor heating, fans, heating, lighting, mirror demisters

Plumbing – hot water heating, water pressure, drainage
Thinking of your bathroom renovation in this way is helpful for a couple of reasons. It helps you collect ideas of what you like and don't like in terms of décor style, colours, etc. If you're someone who likes to keep magazine pictures or Pinterest photos, approaching each category separately will stop it from feeling so overwhelming (we warned you, there are a lot of details to consider in a bathroom). It will also help when it comes to establishing a budget. For each of these categories, there is room to give and take with regards to how much you spend on each element. And for some categories there is less flexibility around DIY work vs work that needs to be done by a licensed plumber.
Bathroom renovation Ideas
Step 4 – Setting a budget for bathroom renovation
When we ask a client what their budget is for their bathroom renovation, nine times out of ten they'll say they don't have one. Unfortunately, this does not mean that the sky's the limit. It usually means that they have no idea what a bathroom renovation in Auckland should cost. This is where we can help immensely.
Without even pulling out a catalogue, we can give you reliable estimates of what percentage of the total renovation budget each of the six categories above might be. But a lot of this comes down to personal preference. We've had clients that are willing to save a bit of money on wall coverings in order to have the bathtub of their dreams. And we've had other clients who prefer a smaller shower in order to fit in a double basin. It starts with knowing what is on your wish list and what is a non-negotiable in your new bathroom.
Bathroom renovation cost
Step 5 – Get a professional to manage the project
One of our goals at Regency Plumbing is to make a bathroom renovation project run as smoothly and as quickly as possible, while upholding our standards of excellence. We know you don't want to live without a bathroom for any longer than necessary. And often we find that Auckland homeowners like to do more than one bathroom at a time in a renovation project – all the more reason to make sure the project is expertly managed.
What this means is minimising the time you're without a bath or shower, for example. Or making sure that when we need to tear out old cabinetry or turn the water off, we're doing it at a time that is convenient for you.
At Regency Plumbing, our expert renovation team members can plan all the details of your project timelines and budget, taking all the stress away from you. If there are any unexpected hurdles along the way, your renovation project manager will be on site to get things back on track quickly.
As we've seen, there are a number of components and stages to a great bathroom renovation process. Get in touch with the experienced bathroom team at Regency Plumbing for an initial chat – remember, it's the most important room in the house!