WHAT IS A CALIFONT?
If you search in your dictionary, a "Califont" mostly refers to an Instant Hot Water Heater. Depending on the country, the name may be different, but in basic terms, a "Califont" is an On-Demand Hot Water Heater. The unit being powered by either gas or electricity.
WHAT ELSE MAY A CALIFONT BE CALLED?
You may also find a Califont to be called a Tankless Water Heater, Gas Hot Water Heater, or Instant Hot Water Heater. The truth is they are probably all just different terms of the same thing.
MOST COMMON BRANDS OF CALIFONT IN NZ
In NZ the 2 most common brands of Califont are Rheem, and Rinnai.
Rinnai Infinity is a name that has been trade marked and has stuck for many people. Rinnai did a phenomenal job of branding their unit to take a huge part of the market share. These are the fancy white box on the wall that delivers endless hot water.
Califont: Rinnai Infinity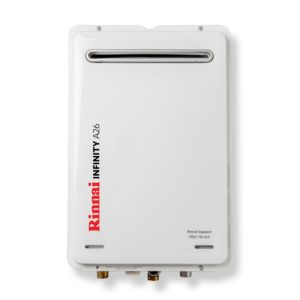 SHORT CUT TO HOT DEALS ON CALIFONTS… IF YOU JUST WANT TO BUY ONE NOW! GREAT DEALS ON RHEEM AND RINNAI HOT WATER HEATERS
HOW GOOD ARE CALIFONTS?
In my opinion, based on over 20 years experience in the trade as a plumber | gasfitter. Be a little skeptical about some of the information you read about Califont's. Especially in regards to life expectancy, performance, and brand recommendations. A good number of articles you read are more sales pitch than fact. Califont water heaters are great because they provide hot water only as it is needed. Efficiency is maximized as there is no tank. There is no energy lost from having standby hot water waiting to be used. This therefore can save you a significant amount of money each year in hot water heating.
HOW DOES A CALIFONT WORK?
A Califont, works similarly to other water heaters with one exception – there is no large storage tank. When a hot water tap is turned on, cold water travels through a pipe into the unit. Either a gas burner or an electric element heats the water. As a result, the Califont will deliver a constant supply of hot water. You don't need to wait for a storage tank to fill up with enough hot water.
The only downfall for most people is that the Califont has a limited flow rate, meaning that in some situations you can get fluctuations when multiple hot taps are used at one time. It is not the end of the world, but can be frustrating if you were never informed about it prior to making the decision to get a new Gas Hot Water Heater fitted in your home. Also as they are normally fitted on the exterior of the house, if you have a long run of pipe to a particular tap, you can experience significant delays waiting for hot water each time you use the tap. Be sure to put the Califont as close to the kitchen as possible for a most satisfactory results. The kitchen you use multiple times a day, so a big delay can be awful.
Fitting multiple units can overcome the lag of hot water and fluctuations to certain fixtures, or taps along way from the Califont itself, however every home is different and it pays to talk to an expert for getting the right location for installation.
When looking at installing or replacing your old hot water cylinder, a Califont is a great option to consider.
WHY CHOOSE A CALIFONT WATER HEATER?
Are they as good as people say they are? Based on our findings of over 20 years of installing Gas Califont Hot Water Heaters at Regency Plumbing – these are possibly the greatest or clearest benefits.
Endless hot water
Strong hot showers
Increased water pressure
Free up space in your home
Efficient hot water heating
Califont: Rheem Integrity

EFFICIENCY OF A GAS CALIFONT – ARE THEY EFFICIENT?
We are always weary defining how much savings someone might make switching from a conventional hot water cylinder to a Califont. Why? because there are a number of aspects we cannot control, or which can not be measured. Apples for apples, 200 litres of hot water heated in your cylinder versus 200 litres of hot water heated by your new Gas Califont, the Gas Heater will be more efficient by a reasonable amount, however the following paragraph must be considered when measuring or trying to quantify what your efficiency might be.
CALIFONT FOR A FAMILY OF 5
If you have a family of 5 who all shower now out of the one hot water cylinder and you all take 5 minutes so everyone gets through before it goes cold, your hot water usage can be very consistent, easy to budget for, and predictable. But if you fit a new Califont, upgrading to endless hot water, and showers that never go cold even if you all shower for 15 minutes one after the other, you may just find that suddenly your hot water usage has tripled. The user experience is will be most definitely amazing and another joy to life, but when you get the gas bill you might feel the pain. Of course this is possibly the extreme, however we normally promote the benefits more than the efficiency savings, for this very reason.
GOOD REASON TO FIT A GAS CALIFONT
If you fit the new Gas Water Heater to get high pressure hot water, endless showers, and an extra free cupboard in your home, you will love it, and you may even save a few dollars along the way, however if you do the upgrade from a hot water cylinder to a Gas Califont just for the savings that many claim are a reality, you might be disappointed. This is my personal unbiased opinion based on installing hundreds of these gas hot water systems and speaking to a lot of people we have installed them for.
WOULD I RECOMMEND THAT YOU INSTALL A GAS CALIFONT WATER HEATER?
For sure I would. In many cases a Gas Califont is just brilliant. There are a couple of types of installations where I would not recommend them, but there are many I would.
When you consider family homes, the baby boomers big homes that just have 2 people in them. They are using only a fraction of the hot water they once used. Of course they are great for them. When you are home you have hot water, but when you are at work, or on holiday they are using no energy at all. But come the long weekend and 10 people turn up for a family catch up, there is endless hot water for everyone.
CALIFONTS – NOT POPULAR BY DEFAULT – THEY DESERVE TO BE
Califonts have not become the most popular hot water system by default. They are a very smart option for heating you water.
If you want to find out more about getting a Gas Califont installed in your home – call our office today. We have some great deals on Gas Califonts.
CALL OUR FRIENDLY TEAM ON 0800 PLUMBER | 0800 758 623
WE WOULD LOVE TO HELP YOU!
SHORT CUT TO HOT DEALS ON CALIFONTS… IF YOU JUST WANT TO BUY ONE NOW! GREAT DEALS ON RHEEM AND RINNAI HOT WATER HEATERS