Rinnai Gas Fires VS Others
If it's time to consider upgrading the heating in your home, you'll know there are endless options to look at and consider carefully. Each option has its own advantages and disadvantages, and ultimately your decision is based on your heating needs and what you're looking for when it comes to heating your home.
Rinnai New Zealand provides an extensive range of high-efficiency rinnai gas fires. They provide constant and reliable heat while being more efficient than electric heating systems. It also eliminates the need for using sparks and firewood.
Heat pumps are the current favourite for Kiwis all over New Zealand, they have low running costs (when used properly), produce instant heat and the convenience of having a thermostat at your fingertips.
Other heating options for your home include wood burners, wood pellet burners, electric heaters and unflued gas heaters (LPG).
There are several factors outlined below that need to be considered in order to reach a decision around which option is best for your home and heating needs.
Design
If design is important to you, a Rinnai Gas fire is far superior to the other options on the market. Heat pumps have a unit inside mounted on the wall and a unit outside and can be an eyesore in your living room.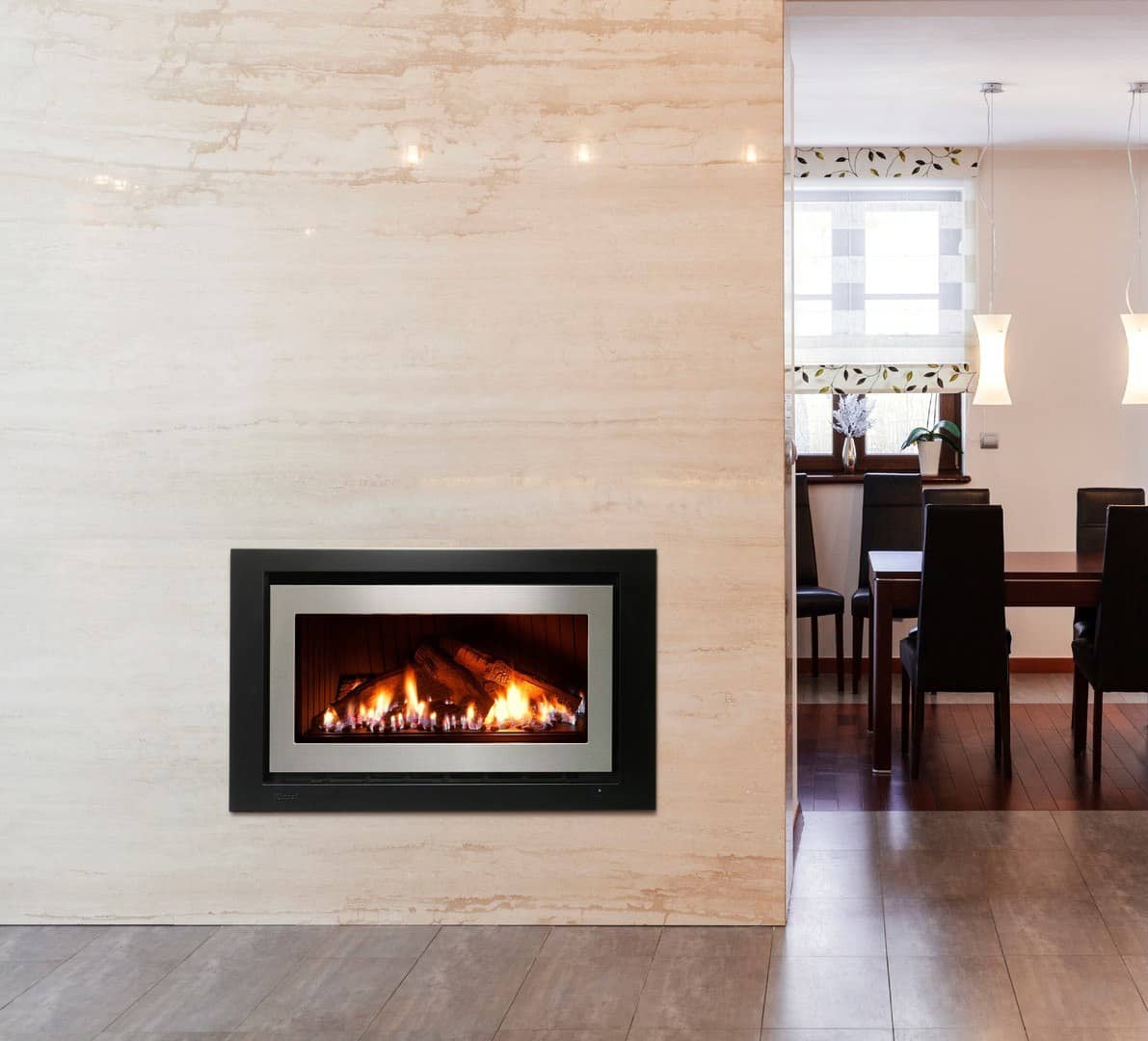 Rinnai currently has three collections of gas inset fires that are suited to different needs and design preferences. The Linear collection was inspired by Aotearoa's unique landscapes. Using hand-selected driftwood washed up on the Wild West Coast Beaches and stones to match those shaped by our rivers and landscapes, they recreated perfectly lifelike ceramics with flames captured in frameless glass. Rinnai's engineers have reinvented gas fires to produce a product with even more lifelike looking fires. The Landscape Series offers the latest designs with high energy efficiency and heat output. The Compact Series says it all in the name, this series is designed to fit into smaller spaces and can be retrofitted to existing fireplaces. All fireplaces supplied by Rinnai provide heat with ambience and enhance the mood of any room for every occasion.
Features
While gas fires and heat pumps switch on and off at the click of a button and can be controlled using WiFi and can heat the room almost instantly. Both also have a timer feature where you can set a time to turn the heater on remotely. Wood burners take some time to heat a room up and do not have a function to turn on remotely.
Some gas fires in Rinnai's collection also have a Symmetry Heat Transfer system, this allows you to heat two additional rooms using a heat transfer system via a floor vent or ceiling outlet. All gas fires in Rinnai's range have an overheat safety feature to ensure your safety and comfort at all times.
Energy efficiency
The Rinnai gas fire range is efficient heaters with a star rating between 4.1 to 5.7, this is constant across all the gas fires and takes the guesswork out of choosing models that are more energy-efficient. The star rating is a quick visual reference that represents the annual energy consumption. The energy efficiency of heat pumps varies a lot more depending on the brand, model and size and can be anywhere between 1.5 and 6 stars. It is important to note the energy efficiency for heat pumps are dependent on the size of the unit and the heat output.
Heat output
Rinnai's gas fire range has great designs without compromising on heat output. The range has a maximum heat output of 5kW to 8.1kW. Heat pump heat output varies a lot more and can range from 1.5kW to upwards of 10kW. When comparing heat output, it is also important to consider how energy efficient the unit is, as these two go hand in hand to determine the cost of running the heater. Gas, especially natural gas in New Zealand, is far superior when it comes to energy efficiency and heat output.
Comfort
Research from Newport Partners has proved that people feel more comfortable with gas fires when compared to heat pumps. This has a lot to do with how the unit heats the air. Gas fires produce heat by burning gas and can heat a cold home up a lot faster using a steady supply of warm air. Whereas heat pump research shows that heat pumps only make people feel comfortable 40% of the time.
Outdoor Temperature
The outdoor temperature has an impact on how heat pumps heat the air. Heat pumps draw heat from the air outside if temperatures fall there is less heat to transfer into the unit and the airflow temperature will drop. Some heat pumps will then turn to electric resistance heating to provide heat. This uses more power and is a more costly way of heating your home. Outside temperatures have no effect on the gas fires and their heat output, in this respect, the gas fires are more superior to heat pumps.
Price Comparison
Gas fireplace typically cost far less to maintain and also have a longer life span too. Heat pumps require regular maintenance to ensure they keep running efficiently. This includes having the heat pump serviced every year to two years, depending on the use. It is also recommended that the heat pump filters are cleaned and vacuumed in between services, and the area around the outdoor unit is kept clear of leaves and debris. Heat pumps also require periodic maintenance, including re-gassing the system. This can be costly and time-consuming. Rinnai New Zealand recommends their gas fires are maintained every 2 years. The service technician will inspect various parts to ensure they are working correctly, this ensures the gas fire continues to work efficiently.
Deciding whether or not to buy a gas fire is a big decision, especially when considering all the options. However, gas fires are superior to the other options on the market. Rinnai New Zealand have fantastic design and engineering and not only do the units look great in every room, they also have a high heat output and great energy efficiency ratings.
At Regency Plumbing, we have decades of experience quoting and installing Rinnai Gas Fires. We have a pedigree in excellent workmanship, competitive pricing and more importantly; we are a trusted installer who will do the job right the first time. Get in touch with our team now and find out how a Rinnai gas fire can add to your quality of life.