Are you just over running out of hot water, every time you wish to take a shower? Have you heard all the hype about the continuous flow gas hot water heater?
If you want to never run out of hot water again – this is what you need.
TREAT YOURSELF TO AN ENDLESS GAS HOT WATER HEATER
Maybe you have heard lots about the Rinnai Infinity, the Rheem Integrity, and the Bosch units.
Maybe you have not and want to find out more about these has hot water heaters.
Hopefully this blog will help you, in your search of finding a solution to endless hot water.
WHAT ACTUALLY IS A CONTINUOUS FLOW GAS HOT WATER HEATER?
A continuous flow gas hot water heater, works similarly to other water heaters with one exception – there is no large storage tank. When a hot water tap is turned on, cold water travels through a pipe into the unit. The gas burner heats the water. As a result, the gas hot water heater will deliver a constant supply of hot water. You don't need to wait for a storage tank to fill up with enough hot water.
The only downfall for most people is that the continuous flow gas hot water heater has a limited flow rate, meaning that in some situations you can get fluctuations when multiple hot taps are used at one time. It is not the end of the world, but can be frustrating if you were never informed about it prior to making the decision to get a new Gas Hot Water Heater fitted in your home. Also as they are normally fitted on the exterior of the house, if you have a long run of pipe to a particular tap, you can experience significant delays waiting for hot water each time you use the tap. Be sure to put the unit as close to the kitchen as possible for a most satisfactory results. The kitchen you use multiple times a day, so a big delay can be awful.
Fitting multiple units can overcome the lag of hot water and fluctuations to certain fixtures, or taps along way from the gas hot water heater itself, however every home is different and it pays to talk to an expert for getting the right location for installation.
When looking at installing or replacing your old hot water cylinder, a continuous flow gas hot water heater is a great option to consider.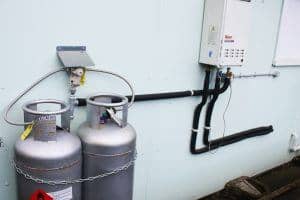 WHY WOULD YOU CHOOSE A GAS HOT WATER HEATER?
Are they as good as people say they are? Based on our findings of over 20 years of installing Gas Hot Water Heaters at Regency Plumbing – these are the real benefits.
Endless hot water
Strong hot showers
Increased water pressure
Free up space in your home
Efficient hot water heating
WOULD I RECOMMEND YOU INSTALL A GAS HOT WATER HEATER?
For sure I would. In most cases they are fantastic. There are a couple of types of installations where I would not recommend them, but there are many I would.
When you consider family homes, the baby boomers big homes that just have 2 people in them. They are using only a fraction of the hot water they once used. Of course they are great for them. When you are home you have hot water, but when you are at work, or on holiday they are using no energy at all. But come the long weekend and 10 people turn up for a family catch up, there is endless hot water for everyone.
WHAT A CUSTOMER SAID ABOUT HER NEW GAS HOT WATER HEATER
We fitted a new gas hot water heater for Kavita in Botany and this is what she had to say, actually it was a Rheem continuous flow gas hot water heater…
"The special offers at the home show in addition to the information on benefits of gas water heating prompted us to use Regency plumbing. They installed gas water heating and gas hob connection in our home with a large complex layout. Quote was given by the end of day and within 3 working days, appointment booked and a job well done. The team at Regency were friendly and completed the job efficiently and to a very high standard. Our low pressure trickling showers have transformed to water blasters! Thank you Regency." Kavita, Botany Downs
This was yet another Gas Hot Water Heater Installed in Auckland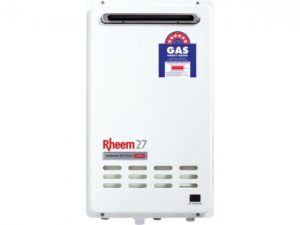 Gas Hot Water Heater Installed in Auckland – Get yours today
CLICK HERE for our latest Special Offers
If you want to find out more about getting a Gas Hot Water Heater installed in your home – call our office today.
CALL OUR FRIENDLY TEAM ON 0800 PLUMBER | 0800 758 623
WE WOULD LOVE TO HELP YOU!