What exactly is guttering?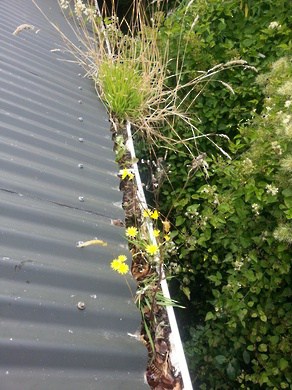 The guttering around your home is a series of pipes that collect rainwater from your roof, channelling it to the downpipes that run vertically from your roof to the ground. The purpose of guttering is to keep water away from the sides of the house in order to prevent damage to the property (the external and internal walls).
As it rains, instead of just running off the roof and soaking the walls (and people) below, water is directed through the guttering to the stormwater network, garden or grey water tank.
Keeping your gutters clean
Through wind and rain, items can get blown into the gutters. Leaves, branches, pine cones, birds' nests, tennis balls – you name it, it all gets stuck up there. This can put a lot of extra weight on the guttering system, potentially causing damage. These things are even heavier when wet, so the sooner you clear them out, the better. You'll notice that guttering is angled in places – this is to direct the flow of rainwater down and out.
Cleaning your guttering is a job many homeowners either dislike, neglect or are not equipped to do themselves. If you're not confident climbing a ladder up to your roof, we strongly recommend you don't attempt it. Give us a call at Regency Plumbing and we can do it with all the right equipment and know-how.
Give us a call for a one-off check – if you suspect something may be stuck in your guttering – or if it's been a while since anyone has checked the guttering. We'll look for debris, blockages, cracks, leaks and anything else that may be preventing the guttering system from working efficiently.
Preventing damage to your guttering
Preventing a problem to your guttering is always easier and cheaper than fixing damage. At Regency Plumbing we can provide you with a few easy-to-use products to keep your guttering clear and working properly. Depending on the size and condition of your guttering, spouting screens or gutter guards may be just what you need to keep dirt and debris under control.
Keeping your spouting clean for grey water collection
Keeping your spouting clean and in good condition is important, too, if you're in Auckland collecting grey water. It's a great way to reduce your water bills and do your part for the environment. You can read more about collecting rain water into a grey water tank here. 
It's important to keep your gutters clear of rodents, rodent waste, birds and birds' nests if you're collecting tank water for consumption. Potable water is any water used for various types of consumption – it is safe to drink, cook with, brush your teeth with, wash and shower with, give to your pets, fill your pool or spa with. If you're in Auckland, talk to the team at Regency Plumbing about the best way to harness the water from your roof to use as potable water – we'll start with reviewing your spouting system.
Spouting or guttering as a design feature
Having spouting in a colour that is different than the main house external colour is becoming a popular approach among homeowners. We think this is a great approach. You can choose a colour that is close to the colour of your window trims for a beautiful, modern look or we can help you select a contrast colour to add some character to the exterior.
Marley is one of our trusted suppliers, and they offer a great range of spouting in various sizes, profiles and colours.
Spouting, guttering, downpipes from Marley
Regency Plumbing trusts the Marley range for their high quality and superb range of products and have been using for years in Auckland. Their products:
will not rust/corrode – designed for NZ's salt-laden coastal air
are made in NZ – proudly made here in NZ for over 40 years
have a 15-year guarantee
are UV resistant – to handle NZ's harsh summer sun and high UV levels
are 100% recyclable – used spouting and downpipes can be returned to Marley for recycling
The range of Marley guttering, spouting, downpipes that we install includes:
a range of spouting/guttering profiles – round, half round, quarter round, Roman, square

a range of downpipe profiles – round, rectangular (square look), narrow options, compact bend options

Curve® is a leaf and debris diverter that combines sleek, sophisticated design with innovative filtering technology

Twist® is a compact rainwater diverter that quick connects your downpipe to a small tank.

6 colours (white, black, grey friars, ironsand, copper, titanium)

When you upgrade from your old guttering to colour, you may be eligible for the Regency Plumbing trade-in offer – get in touch with us to find out more.
Reminder about the Building Code
The New Zealand Building Code has specific compliance requirements that pertain to the disposal of rainwater from external surfaces, along with measures to ensure that surface water cannot enter the building. These are detailed in section E1 (surface water) and section E2 (external moisture) of the Code. Therefore, we recommend that if you are planning to install, repair or replace your spouting, guttering or downpipes, you give us a call at Regency Plumbing to ensure you remain compliant.
Give Regency Plumbing a call for a quote on unblocking, repairing or replacing your spouting, guttering and downpipes.