WHAT MAKES A TOILET FLUSH WELL?
Toilet flush.You can study the shape of the toilet bowl as much as you like. You can convince yourself about what shape toilet flushes best. But regardless of shape. A toilet with poor plumbing, the wrong sized connection, or skew to the pipe, will never flush well. It is somewhat funny. A lot of people tell us there toilet wont flush due to the shape. The crazy part is, it has sometimes been in for 40 years working well. I can honestly tell you the shape will not have changed during that time. Probably in this case you have a partial blockage, or someone has altered the water level in the toilet cistern.
In this blog I want to give you a brief on toilets, and what effects the toilet flush. The bottom line is – in  most cases a correctly installed toilet will flush well. There is the odd bad toilet, however most will flush poorly due to installation fault, rather than actual toilet fault.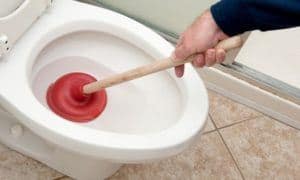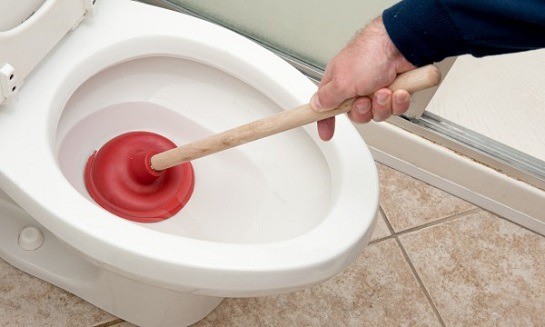 COMMON ISSUES CAUSING A BAD TOILET FLUSH
Poor quality toilet. It can be that the toilet is just poor. We see some imported toilets coming through these days that are designed to just be set in concrete over a hole in the ground. Start with buying a decent toilet.
Poor quality flush from the cistern. If the toilet is new, it may have defects, or issues causing a poor flush. However, if it is older, it can be because someone has tampered with the settings. Possibly now it only half flushes. Or possibly it only has a small volume of water in the cistern that needs increasing. Adjustment to a cistern, or flush button can often solve a bad flush, if the toilet in general used to flush well.
A blocked outlet pipe. The toilet flush will never be good if the waste water can't rush away. Even if it is partially blocked it will cause endless trouble. This could be a minor blockage, or maybe tree roots have grown into pipes. Below is an example of a pipe that was lead and had been squashed that we replaced in plastic.
A new toilet fitted wrong. Often we see people tile the floor and refit a new toilet. Suddenly you find the pipe and toilet outlet do not line up. This will never help the flush. A good strong toilet flush needs fall.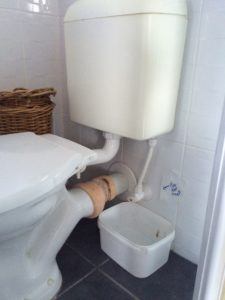 RECOMMENDATION FOR A GOOD TOILET FLUSH
Get rid of the old cast iron stack, or lead pipes. Lots of people want modern back to wall toilet suites now. If you have an old cast iron stack or lead pipes and want to fit a modern toilet suite, just replace it. Unless you want never ending hassle with blockages and leaks. A bad flushing toilet can be very frustrating and embarrassing. Get it right from day one. Use a professional to install it.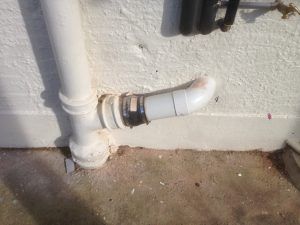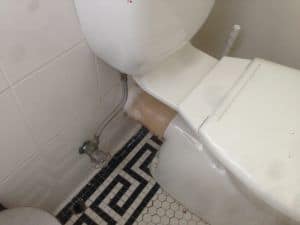 On this job we had to replace the small section of pipe on the outside to get a good flush. This was in Kohimarama, Auckland. It was an old piece of lead pipe that someone has squashed. The toilet would never flush well. It was changed to PVC. A great flushing toilet now.
Also an unmatched toilet suite. Often people will just replace one part of their toilet. As an example – if you fit a new low-line modern cistern to an old school pan with a wide outlet, it will be poor flushing. They normally had high mounted cisterns that gave them a good surge of water. This is what they were designed for. so my tip here is to stick to what you have, or change the whole toilet suite.
WHAT IS A BACK TO WALL TOILET SUITE, AND DO THEY HAVE A GOOD TOILET FLUSH?
Mostly now customers ask us to fit back to wall toilet suites.
They are nice, easy to clean, look sharp. They make sense. However they can be tricky to fit in some instances. Mostly we need to review where they are being fitted to make sure its possible. Well possible at least for an affordable price. Without having to open walls, rebuild the room, etc.
Below is an example of nice back to wall suite. These are a model which is well priced for what it is.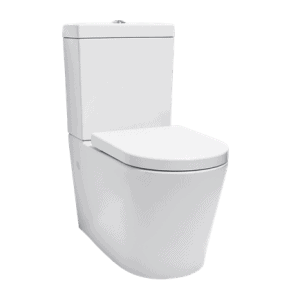 As you can see though, you cannot get to any pipes without removing the whole suite, so tricky to fit. Even worse if you are not fitting to a new pipe set up in exactly the right position. These are excellent toilets but in order to have a good toilet flush, must be set up correctly.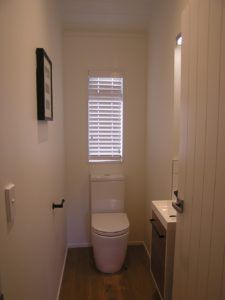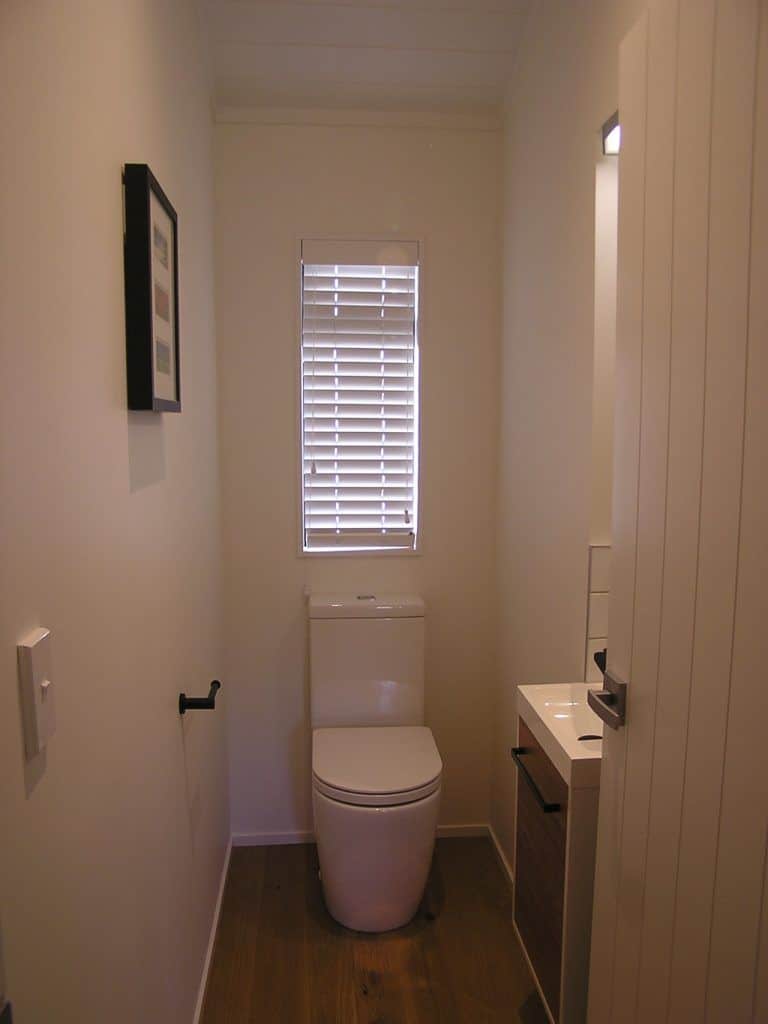 IS THERE A SIDE OUTLET TOILET THAT HAS A GOOD TOILET FLUSH?
The answer is not really. Caroma are really the only ones that still make a side outlet pan, which is probably exactly the same as you already have, but maybe a bit more white and shiny. They serve a purpose, They do flush, but they have never been to good. They were designed to solve the problem of fitting a toilet at right angles to the exterior wall.
Most commonly now if we replace these old toilets, we build a small void or box section and set them up as per the photos below. This allows you to hide the pipe and finish up with a classy toilet with a great toilet flush.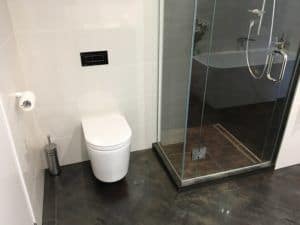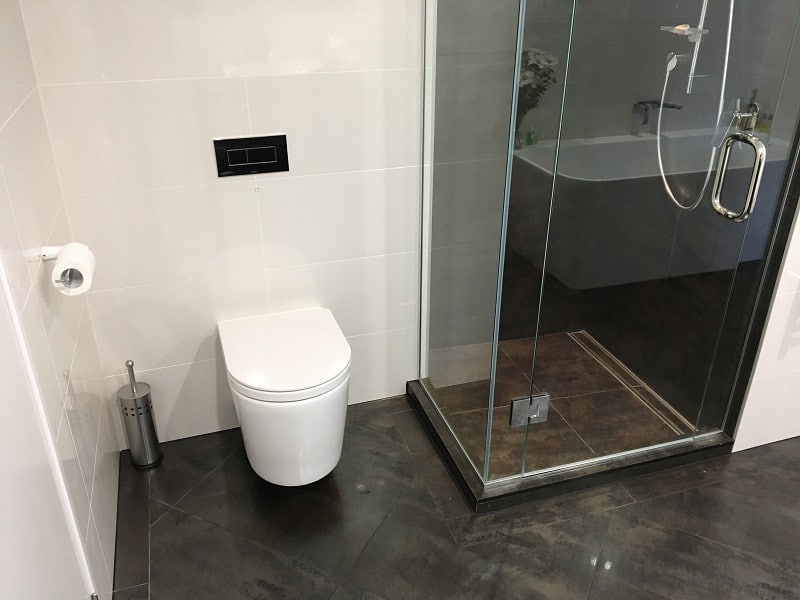 IN THE MARKET FOR A TOILET THAT IS GREAT!
So if you want a new toilet, you will find thousands to choose from, but i'll leave you with this thought. Find out what will fit first. You can spend heaps making the incorrectly purchased toilet fit and then it will probably end up with a poor toilet flush. There would not be much more frustrating than that. You can save $200 is a sale buying a cheap toilet, to just end up spending heaps making the lemon fit.
Seek professional help. Buy what will fit your installation type. Or in the case above, as you can see this is real nice, but comes more with a bathroom renovation than just a new toilet really. You can achieve the same more cost effectively if you are on a smaller budget, but worth looking at if you have aside out let toilet now.
For more help on toilets, and a toilet with a great toilet flush, give Regency Plumbing a call if we can be of any help!
Or check out Robertson's. We buy a lot of toilets off them these days. Top quality toilets.
CALL OUR FRIENDLY TEAM ON 0800 PLUMBER | 0800 758 623
WE WOULD LOVE TO HELP YOU!