Time for a new gas hot water system, but you cant decide what to get. Will it be the Rheem Stellar or the Rheem Continuous Gas Hot Water Heater that is best for you. Hopefully this blog will help you.
WHAT YOU NEED TO KNOW ABOUT THE RHEEM STELLAR AND THE RHEEM INTEGRITY
As this debate or question comes up every day, which is better? I will do my best to share some help on this topic for you.
There is no real right and wrong, both are fantastic hot water systems, both have gas as the energy source, but both have different pros and cons, advantages and disadvantages. It is always best that you first are very sure about what you want to achieve by fitting your new hot water system. If you know why you are upgrading you will be satisfied with the outcome. Maybe you already have gas, then no doubt you have made the choice to use gas. If you have an electric cylinder now, then maybe you haven't even got this far, but this must be the point at which you start your decision making process.
For a more detailed blog on choosing the right hot water system for you – CLICK HERE
But this blog is specifically on Rheem Stellar verses Rheem Continous Flow
THE BENEFITS OF A RHEEM STELLAR
If you already have a Vulcan Freeloader – the Rheem Stellar is a direct replacement (designed specifically to replace old Vulcan Freeloaders)
The Rheem Stellar goes outside – not taking up any room in your home
They are mains (high) pressure
They deliver plenty of water for your big overhead shower or rain-head
If you have multiple bathrooms and showers this system will deliver up to 40 liters per minute (truck loads of water)
The Rheem Stellar does not require power for ignition of burner (hot water even when there is a power cut)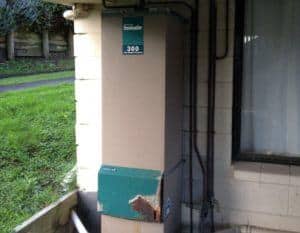 THE NEGATIVES OR CONS OF A RHEEM STELLAR
If only a couple of people live in the home, you're wasting a lot of energy heating a large storage cylinder of hot water for nothing
They are started and controlled by a pilot light – meaning that should the pilot go out, they can be temperamental to re-start
These are large units and take up a big space on the outside of house (only a problem if its in an access way or similar)
Also a little hungry on gas consumption
They do not provide endless hot water for the family who all shower at the same time of day
When you go on holiday, or are at work, they'e still using lots of gas
They are not available for use on LPG
MY OPINION OF THE RHEEM STELLAR
Based on my personal opinion – with 25 years of experience as a plumber, and having had one in my last home, I highly recommend the Rheem Stellar. We upgraded to the Stellar after we found our heat pump hot water cylinder just couldn't deliver enough hot water for a family. In a nut shell, when you are replacing a hot water system of any kind (a retrofit situation) the plumbing of the house will always be best designed to fit the new hot water system back in the same place as where the old one was. Therefore because I had a cylinder on the outside of house, miles away from the kitchen, and because I had a plumbing system with a circulation ring main – circulating hot water through the house continuously, the Rheem Stellar was the best choice for me.
Also as we had 7 living in the house – so we needed lots of water, and we used lots of hot water, so were able to take advantage of the large storage capacity.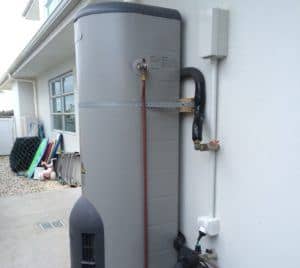 THE BENEFITS OF A RHEEM INTEGRITY OR CONTINUOUS FLOW GAS HOT WATER HEATER
The unit goes outside – not taking up any room in your home
Only a small compact box – visually more appealing than a large cylinder outside
They are mains (high) pressure
Super efficient (especially on natural gas)
They work great on both natural gas and LPG
When you are at work or away on holiday, you are wasting no gas or energy at all
They are electronic ignition, incredibly reliable
You will never run out of hot water again (endless delivery of hot water)

THE NEGATIVES OR CONS OF A RHEEM CONTINUOUS FLOW GAS HOT WATER HEATER
They require power for ignition (if there was a power cut you would have no hot water)
They are only able to deliver as much hot water as the unit notes. A Rheem 27 will only deliver 27 liters per minute at optimal conditions
The delay or lag of hot water to each tap can be frustrating
They are fitted on the exterior of building, often not in an optimal space or location
The water only heats as it passes through heater so capacity or output is restricted if water is very cold coming into unit
MY OPINION ON THE RHEEM CONTINUOUS FLOW GAS HOT WATER HEATERS
These are by far the most popular system being installed in Auckland NZ today. Why? because they are so usable, and in most cases the most efficient.
The pro's for most people out weigh the cons. As many homes, buildings in Auckland now have reducing numbers of people in them, they adjust perfectly well. Many homes that were once family homes with large electric storage hot water cylinders are now being converted to Rheem Continuous Flow, primarily for the reason that only mum and dad live there now, the kids have all gone, and they don't need all that hot water. However come holidays, the kids pile back home, along with all their kids and you suddenly need a stack of hot water. Well you have it, endless hot water. Then when they leave again, you are back to your super efficient system on the wall heating just the right amount of hot water for your needs.
Yes, there are delays, but as long as you favour the kitchen in design, most people can manage to live with it. Of course you could fit two of them if your budget allows, one by the kitchen, one by the ensuite, or isolated bathroom, and you will be really happy.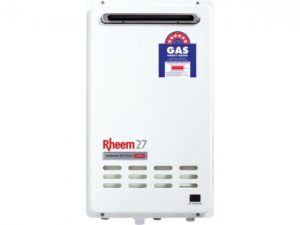 RHEEM STELLAR OR RHEEM CONTINUOUS FLOW – THE WINNER IS?
As you can see there isn't really a winner, both are different. If you have natural gas, and you're replacing a Vulcan Freeloader, probably the Stellar is the way to go. Although if you have this situation, but a compact house, the family have moved out, then a Rheem Continuous Flow could be. The only thing to consider is you may get delays to some taps which you didn't have before. Trying to run everything at once, fluctuation will be more apparent. Also if you run out of water now and want endless hot water. Then continuous flow will be better.
If you do not have natural gas and are going with LPG, then the Rheem Continuous Flow will be your only option. For most people efficiency is a big priority. They will choose continuous flow despite the lack of performance compared to the Rheem Stellar. Of course many people who upgrade to a continuous flow are upgrading from an old low pressure electric cylinder, so the performance will still be night and day difference. If you feel you can put up with delays of hot water to your taps. Continuous flow is a great choice. We find the only negative feed back we ever really get from customers we fit them for is the delay of hot water to some taps.
The life expectancy of them both is about the same.
RHEEM STELLAR – NOT THE BEST CHOICE FOR THE HOLIDAY HOUSE
If you have a holiday house, a Rheem Continuous Flow will be the best choice. Run it on LPG, and you can also hook your BBQ. It's by far the most economical way. As soon as you get to the bach you have hot water. Then when you leave you've wasted no hot water. Also you are not heating any hot water when you aren't there. A really big holiday house, yes you may get a few delays, but just favour your kitchen. Your guests will be thrilled just to get a free holiday by the beach and enjoy staying with you. They wont complain they had to wait 20 seconds for hot water at the shower. Personally for a holiday home, I wouldn't even consider anything else.
Well, I hope this blog has been of some help to you in the decision making process.
If you would like more advice from the experts on the Rheem Stellar
CALL OUR FRIENDLY TEAM ON 0800 PLUMBER | 0800 758 623
WE WOULD LOVE TO HELP YOU!