Do you need a new gas hot water heater?
This is what (3) recent customers said about the service we offered…
Regency Plumbing replaced our leaking hot water cylinder with a gas hot water cylinder. They were very professional and kept us informed all the time. They were also well priced. We can't speak highly enough of the service we received. Will definitely use them again.
I have use Regency 3 times so far, installing gas hot water system, fixing leaked pipe, repairing gas heater. I am very happy with their services. They turned up on time, and get jobs done quick and up to standard. The price they charged is reasonable as well.
Took advantage of their ad for replacing our hot water cylinder with a Rheem system. What a great buy and a great job. Great communication with the office and great work from Hayden. We are having them back for more work.
GAS HOT WATER SYSTEMS
Have you ever considered heating your hot water with gas? If you haven't, it is well worth doing the maths.
Gas hot water systems are very popular, and generally a very cost effective way to heat your water.
There are (2) common types of gas hot water heaters
Gas Storage Cylinders
And Continuous Flow Gas Hot Water Systems
Regency Plumbing is a recommended installer of all Rheem Hot Water Systems, and we possibly install more hot water systems every year than any other installer.
SPECIAL OFFER ON LPG
"Click here" to find out more about some free lpg
"That's right – FREE! Just switch your LPG and electricity over to any fixed plan with Contact this winter. Feel free to get in touch with us or call Contact on 0800 376 078 to find out more. Or click here for full details."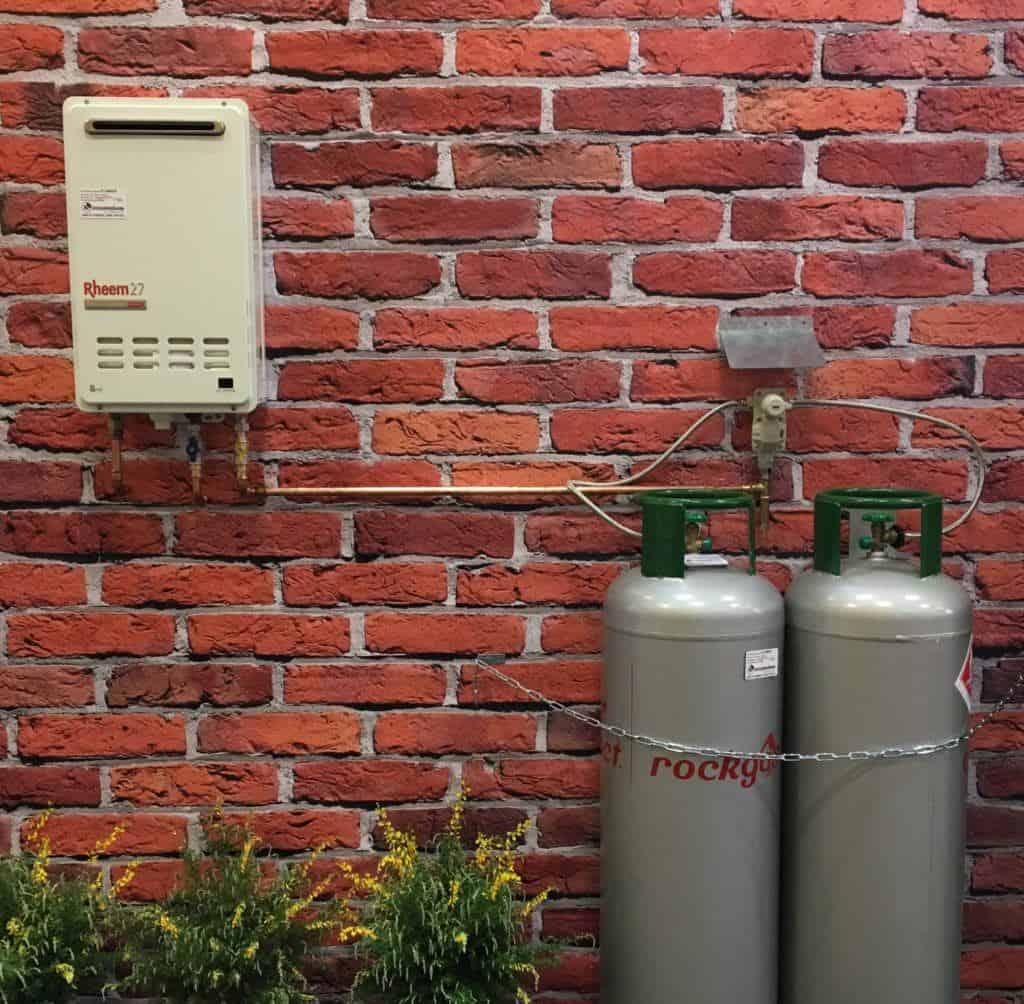 Rheem Continuous Flow Gas Hot Water Heaters
These are by far New Zealands most wanted trendy hot water system, and in particular the model running on LPG. We nearly install as many of these per year as all the rest put together.
Models are available in both Natural Gas and LPG, and will normally cost you $1875.65 inc GST each, just for the unit, but right now the team at Regency Plumbing are offering you a supplied and installed package deal to have a new Rheem Continuous Flow Gas Hot Water system installed in your property for just $2987 inc GST.
*NOW ONLY $2987 inc GST
And to make the deal even sweeter, on top of this great price you will also:
Receive a FREE Upgrade from a 24 to a 27 model (that is the big unit 27 LPM, an increased capacity of 3 LPM)
PLUS if you connect to LPG through Regency Plumbing you will get your first bottle of LPG FREE (an additional savings of approx $100.00)
And finally our package will also include up to $290 exc GST of electrical work to have your switch connected for the electronic ignition.
Can you believe how amazing our package deal is. *Terms and Conditions Apply
Key Features of the Rheem Continuous Flow Gas Hot Water Heaters
Rheem Continuous Flow Gas Hot Water Heaters deliver endless hot water that never runs out.
The Rheem Continuous Flow Gas Hot Water Heaters are a high tech advanced water heating system designed for NZ homes.
They come complete with a 5.8 star energy efficiency rating.
They are a high or mains pressure system.
Also space (storage space) in a home is in demand so getting rid of the old cylinder, gaining a storage cupboard, and having the new gas hot water unit on the exterior wall is fantastic.
Just open up the hot tap and the hot water will flow out for as long as you would like it to. For the family of girls who just love to shower all day long, this has got to be a winner.
Testimonial for the Rheem Continuous Flow Gas Hot Water Heater
We just did an upgrade for Kavita, and this is what she had to say about it.
"The special offers at the home show in addition to the information on benefits of gas water heating prompted us to use Regency plumbing. They installed gas water heating and gas hob connection in our home with a large complex layout. Quote was given at the end of the day and within 3 working days, appointment booked and a job well done.The team at Regency was friendly and completed the job efficiently and to a very high standard. Our low pressure trickling showers have transformed to water blasters!
Thank you Regency." Kavita, Botany Downs