If you're thinking of renovating a bathroom in Auckland, this comprehensive summary of what to do, how much to spend, and what pitfalls to watch out for is the best place to start.
Bathroom renovations is always a good investment, regardless of your circumstances. If it's for the house you live in, you will definitely enjoy the room more once you've renovated. Think about it, the bathroom is possibly the most used room in the house. You might spend more time in your living room, but usually you're just watching TV or lounging around (not actually "using" features of the room). You might argue that the kitchen is used more, but for many of us, it's used primarily just once a day, at dinner time (and often not by everyone in the household). A bathroom, on the other hand, is used several times a day – and by everyone in the household.
If you're thinking of selling your house, a bathroom renovation will almost always add value to a home. And if you're a landlord, a newly renovated bathroom will help you attract a higher rent. A bathroom renovation almost always generates a return on investment.
So what should you think about when renovating a bathroom? What sort of budget do you need? And what kind of mistakes can you avoid?
The Regency Plumbing team in Auckland has completed hundreds of bathroom renovations over the past 20 years. We can help you make the most of your space (and budget), and avoid some common pitfalls you'll want to watch out for when it comes to renovating your bathroom.
One of our directors of Regency Plumbing is also a specialist project manager who is on hand to make sure your bathroom renovations goes well. Begin with the steps and suggestions below, and then get in touch to get your bathroom renovation started with the Regency Plumbing team experienced in Auckland bathroom renovations.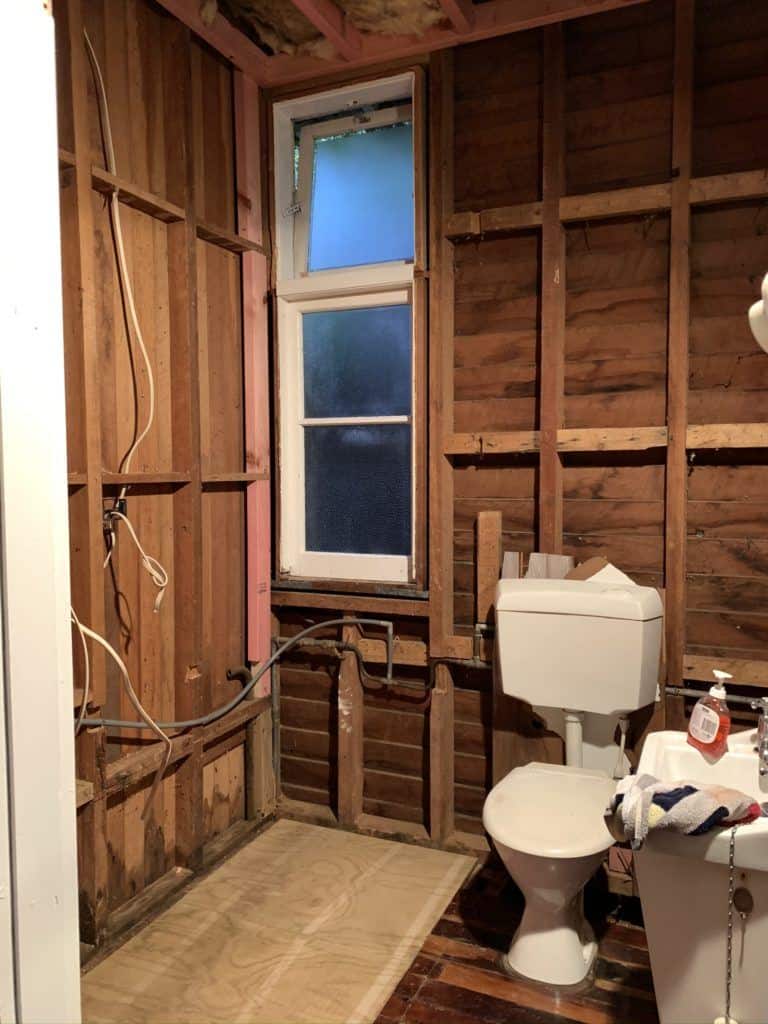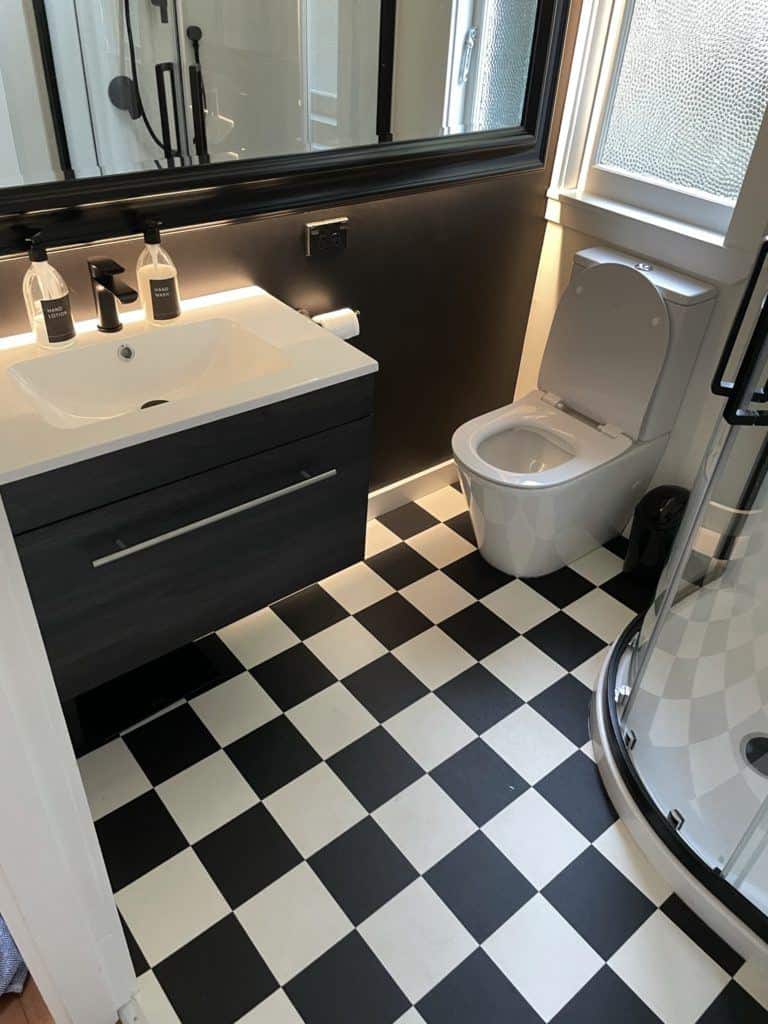 What are the steps involved in a bathroom renovation?
There are two key ingredients to making any project run smoothly, on time and to budget – you need a plan and you need expert help. Help from bathroom professionals who have done this before will be an invaluable investment in the process.
The best way to plan bathroom renovations is to break it down into organised steps. We use the following proven stages:
Step 1 – Get a professional bathroom renovation company involved early
You might think that doing it yourself will save you money, but trust us…the investment in having an experienced, professional bathroom renovation team involved will actually save you money in the long run. We know the best way to organise your time and subcontractors. We can offer lower-than-retail prices on tapware, fixtures and other supplies. And we'll help you avoid costly mistakes than might happen if you DIY it.
Don't worry, there will be a lot of ways for you to be involved and to enjoy some of the details. We'll keep you updated every step of the way, and you'll have input into all decisions. Our role is to guide you in the right direction so you have flexibility and choice, without the stress of managing the complexities that a bathroom renovation can provide.
Step 2 – Take the time to do proper planning and budgeting
Our experienced team will make sure your bathroom renovation project begins with a thorough brief to make the job run seamlessly, to time and budget. We'll talk to you about who uses the bathroom, what your lifestyle or household habits are that might affect the design or layout of your bathroom, and we'll go through some detailed design ideas with you. Over the years we've worked on hundreds of bathrooms, so chances are there are details we can suggest that you may not have thought of. Our specialty is in making the most of a space, no matter how small it is – we place equal emphasis on practicality and aesthetics.
Step 3 – Look at the different components or areas of your bathroom
While it may be one of the smaller rooms in a house, the bathroom is actually one of the more complex rooms – yes, even more complex than the kitchen. That's because there is plumbing, water tightness, electricity, different types of heating and ventilation – all in one room. To make your bathroom renovation easier to get your head around, we divide it into different stages and areas to work on:
Main bathroom fixtures – vanity/basin(s), toilet, shower, bath, bidet
Secondary fixtures – tapware, mirrors, towel rails, cabinetry
Flooring – tiles and other floor covering options
Walls, ceiling, windows – tiles, plasterboard, paint, wallpaper, blinds
Electrics – heated towel rails, underfloor heating, fans, heating, lighting, mirror demisters
Plumbing – hot water heating, water pressure, drainage
Your dedicated project manager will go through several options for each of these with you, making sure you're happy with the look and the functionality of every detail. We'll give you as many options as is practical to make sure your overall project adheres to your desired budget.
Step 4 – Set a realistic budget
Speaking of budget, we'll help you figure this one out as well. We understand that not everyone knows what they want to spend when they start a bathroom renovation project. We'll start with some ballpark estimates, depending on what you have in mind, and then work with you to refine your budget. After years of doing this, we can quite easily advise on where to bring costs down in one area to be able to splash out more in another, depending on what your priorities are.
We'll keep you informed along the way, so you know exactly how your project is tracking. We dislike surprises on a project as much as you do. So we make sure we've thought of everything that might affect the budget before we begin.
Step 5 – Have an experienced bathroom renovation specialist manage the project
Because there are so many interdependent stages of a bathroom renovation – and several different subcontractors involved (plumber, electrician, water-proofer, tiler, jib stopper, painter, etc) – your Regency Plumbing project manager will coordinate all of this for you. This is especially helpful if you work or have other time commitments. Often decisions on a bathroom project need to be made before another step can proceed. We'll make sure we're there to help with this process so you don't need to worry about missing any key steps.
Bathroom Renovation Cost
There is not right or wrong answer to this; there is no one-size-fits-all when it comes to bathroom renovations in Auckland. At Regency Plumbing we know that everyone has different tastes, preferences and budgets. We've worked on renovations where only a few elements of a bathroom were changed or updated, where a budget of $3000 was enough. And we've also seen bathroom renovations at the other end of the scale where a homeowner wanted to spend $50,000 on a bathroom. For us, the sweet spot lies somewhere in the middle. But where exactly that is depends on what you have in mind.
In order to set a realistic bathroom renovation budget, we start with some very open and honest conversations with you. We get to know what your household is like, how many people will be using the bathroom, what's wrong with your current bathroom, what you like or dislike about what you have already, and anything else that might come into play when setting a budget.
Because we've done this before (a few hundred times) we can give you the benefit of experience and our specialist expertise to guide you in the area of what to spend. We know how to allow for higher spend in some areas, and more cost-efficient options in other areas. For example, if you're a regular bath user, then we'll know not to scrimp in that area. If you love a heated floor when you come out of the shower, we'll look at options there. If several people will use the bathroom in the morning, then we'll usually present options for having a double basin option. There are a lot of ways we can use the same budget to create different outcomes. It all depends on what is important to you and what your priorities are.
We love showing our work, so if you'd like to see some of the bathrooms we've worked on in different budget ranges, then please get in touch.
What are some common pitfalls to avoid in a bathroom renovation?
Over two decades of working in this area, we've seen some incredible mistakes made and close calls when it comes to bathroom renovations. Needless to say, they've all occurred when an inexperienced handyman or homeowner has tried to take shortcuts and DIY parts of a project that should be trusted only to experienced professionals.
Because there are so many elements to a bathroom renovation that require specialist skills – electrical works, waterproofing, tiling, ventilation, plumbing, heating – it pays to use a company like Regency Plumbing to give you not only peace of mind, but also a much better end result.
Here are a few of the common mistakes people make when renovating a bathroom:
Not using a professional designer.
A bathroom is often a small room where you're trying to include a lot of features so that the space can be used by several people for many tasks (bathing, showering, toileting, brushing your teeth, shaving, doing your makeup, styling your hair, getting dressed, bathing a child, etc). It's amazing how often we use the bathroom and how people have different preferences in how they use the space.
The devil is in the detail, and configuration is key. A smart bathroom design will make the most of the space you have and will take into consideration how you use the room.
Not doing a thorough plan ahead of time.
It's important to fully plan what you want to include in your bathroom renovation before you start. Think about your must-have items, the nice-to-have-but-not-necessary items, and then the things that you absolutely don't want to include. Don't worry yet about the specific item costs – that's where the professionals at Regency Plumbing can help. If, for example, a bathtub is a must have, we'll provide you with several options at different price points. The important thing is to decide what you want and don't want. Don't settle for a single basin if you know more than one member of the household will be trying to get ready at the same time most mornings.
The crucial mistake is trying to decide on things as you go. There will be several tradies involved, all working in a small room, and they all rely on each other to complete their piece of the puzzle on time. A good solid plan ahead of time will make sure you've made as many decisions ahead of time as possible and are not delaying the process with slow decision making or last-minute changes.
Not having a realistic budget.
With a thorough plan comes a thorough budget. At Regency Plumbing we believe in a "no surprises" approach to our work. So we'll work with you to decide on a realistic budget to create the best room possible for your taste and lifestyle.
We'll also project manage your bathroom renovation so that you're using other trades like electricians and tilers that we know and trust – reputable contractors who will do great work and not rip you off.
The team at Regency Plumbing are here to help. If you're interested in a no-obligation initial chat about your bathroom renovation ideas, please give us a call.