BATHROOM RENOVATION AUCKLAND
You have decided to do a bathroom renovation for your Auckland house, but you are feeling overwhelmed.
Check out these 7 important tips on bathroom renovation in Auckland and put your mind at ease.

Why are you doing the bathroom renovation?

Be sure in your own mind why you are doing the bathroom renovation in the first place. It does not matter why. Maybe it's because it's dated. Possibly it's because you've bought a new house and just don't like the bathroom. Or is it that the shower is leaking. Maybe you are doing the house up to sell. It honestly doesn't matter why, as long as you know why, because this will radically change how you go about it, and what is important for your bathroom renovation.

Who lives in the house and who will use the renovated bathroom?

Who lives in the home? and who uses, or who will use the new bathroom? Often people will do a bathroom renovation because they have friends coming from overseas. This is great, but will not help you make good decisions for you or the people who will use the bathroom long term. Maybe you're having a baby and want to add a bath. Or possibly you are ageing, getting less able, and are removing your shower over bath as it's too difficult to get into any more. All great reasons to do a bathroom renovation. Another common reason is that people need care, help with showering and are fitting large level entry accessible showers. Once again it's your home, your bathroom renovation, you can have what you like.

Just be sure you know why you're doing it and what you hope to achieve by doing it. That way your bathroom renovation will be a success.

How much a bathroom renovation will cost in Auckland?

Establish a budget and know what you can afford. The bathroom renovations will always cost more than you want to pay. To get the job done properly there will always be a significant cost. A lot of times people will just decide on a random number, but this doesn't help anyone. When we quote on jobs we can juggle the quote to get to almost any number you like, however, this may not achieve what you set out do. As an example to create an accessible, walk-in tile shower, perfect for the aged and infirm, it may cost $10,000 alone, compared to an off the shelf 900 x 900 acrylic basic shower that may only cost $3,000, but if it doesn't achieve your goal, both are completely irrelevant numbers.

Very often I find when I ask people a budget, they will say $20,000. Maybe they might say $30,000. But always, well almost always it is well short of the bathroom they have in mind. One thing I will say is always to try and budget $5,000 more than you want to spend if you can. Remember if you are to pay $30,000 for your bathroom renovation anyway, but for $35,000 you achieved exactly what you want, rather than your suggested budget of $30,000 you will never regret spending the extra. The extra $5,000 will be appreciated for years to come. On the reverse, if you got your new bathroom on your budget of $30,000 but after spending the money didn't even like it – you just wasted $30,000.

Be focused on why you want your bathroom to be renovated?

Stick to your dream. Keep focused on what you wanted to achieve by doing the bathroom renovations. I remember recently we were asked to complete a bathroom renovation for a couple. The first thing the lady asked me was, "could we fit a small basin in the toilet, it would be really handy." I said, "that it would be no problem at all." We quoted their job and it came to quite a bit more than the budget they had in mind. So they called up and said, "what could we do to reduce the cost, and could we maybe take the extra basin we've added out." We massaged the quote a bit, got to a number they were happy with and started the bathroom renovation.

Just 2 days into the renovation the lady said "how much would it be to add the basin in again, I would really like that." I said "most of the value we took out." She said "well I think we'll add it back in." Luckily she decided really quickly before we had got to far.

The moral of this tip is though – these people were really happy with their bathroom renovation. But, had we of got to the end and the basin wasn't added, they would never have been as happy. So stick to the why, be sure to achieve what you really want to have in the new bathroom. The reality is this added basin was about $2,500. Imagine years of regret for just $2,500 if you actually could have afforded it, but just didn't really want to spend the extra at the time.

Use professional Auckland Plumbers

Use a professional bathroom renovating company from Auckland. Do not be caught out getting just anyone. You can count on one hand the number of bathroom renovations that go well done by a mate of a mate, or the neighbour, or a friend trying to help out, or your husband's cousin. Even if they can do it for half the price, it is still a bad idea. Even if they can do it in 2 weeks, still a bad idea.

A bathroom renovation is a journey. A good new bathroom will take a month, maybe even 6 weeks if tricky. There will be dust. It will cost heaps. Possibly a couple of the tradesman will look a bit scruffy and smell a bit, but the key thing is they are friendly and know what they are doing. It is always best to find a professional with a good project manager, good references, and good ideas.

The price must be competitive for the bathroom renovation, but saving a couple of thousand to end up with a 6-month nightmare is actually a huge price to pay. A bathroom renovation is no small task. Get a professional bathroom company.

Communication is key with the bathroom renovators

Communicate. Most successful bathroom renovations will of had great communication. There is a lot of decisions to be made, and a lot of phone calls to be had. There is a lot fewer errors and frustrations if both the bathroom renovation company and customer are good at communicating. Pick up the phone, don't just send emails. It is much easier and quicker to have a quick chat, make a change, or question something by phone, than endless emails.

Be realistic about your bathroom renovation, and bathroom renovation ideas

Be realistic. Right from the beginning be sure about what your expectations are. Tell the bathroom renovation company what you like, what you do not like. Explain that you have a big dog that must be tied up. Discuss what door we should use, or not use. Also if you have concerns, fears, be sure to share them. Often many trivial obstacles can be overcome with good communication.

We are all human, everyone is capable of making a mistake. Communicate. Do not just email pages of notes about your frustrations. Pick up the phone and make a call. Get it off your chest. Try not to make a mountain out of a molehill. Do not sit at home watching your clock waiting for the tradesman to turn up. You will go crazy.

Get a professional company you can trust, they will fit a lock box. Their tradesman can come and go as they wish, and the job gets done. If you see something wrong, let the project manager know. Do not overreact, maybe it is not finished, but sometimes a quick phone call can save a sleepless night.

Expect dust. No bathroom renovation will happen without dust and disruption to your home and life. Enjoy the journey.

Prepare for the tradesman, be ready for your bathroom renovation to take place. If you have precious ornaments, pictures, whatever. Shift them to a spare room, cover them up. The bathroom renovation company should take care, but after all… 300 – 400 hours of construction will not happen without dust and disturbance to your life.

If you are going away – use this opportunity to get your bathroom renovation completed, or partially completed. Save yourself 2 weeks of disruption. As long as you are comfortable with who you have chosen of course to complete your bathroom renovation.
Well, I hope you have found these 7 tips on a successful bathroom renovation helpful and useful. I hope you enjoy the journey you are about to begin.
BATHROOM RENOVATION EXPERTS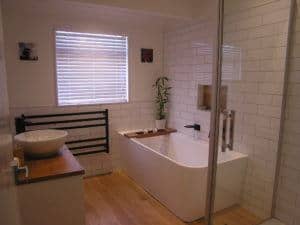 Regency Plumbing is a specialist bathroom renovation company in Auckland. We have our own project manager who is also a director of Regency Plumbing to make sure your bathroom goes well. If you would like to chat – call us today!
CLICK HERE to fill in a submission form and leave your details.
CALL OUR FRIENDLY TEAM ON 0800 PLUMBER | 0800 758 623
WE WOULD LOVE TO HELP YOU!